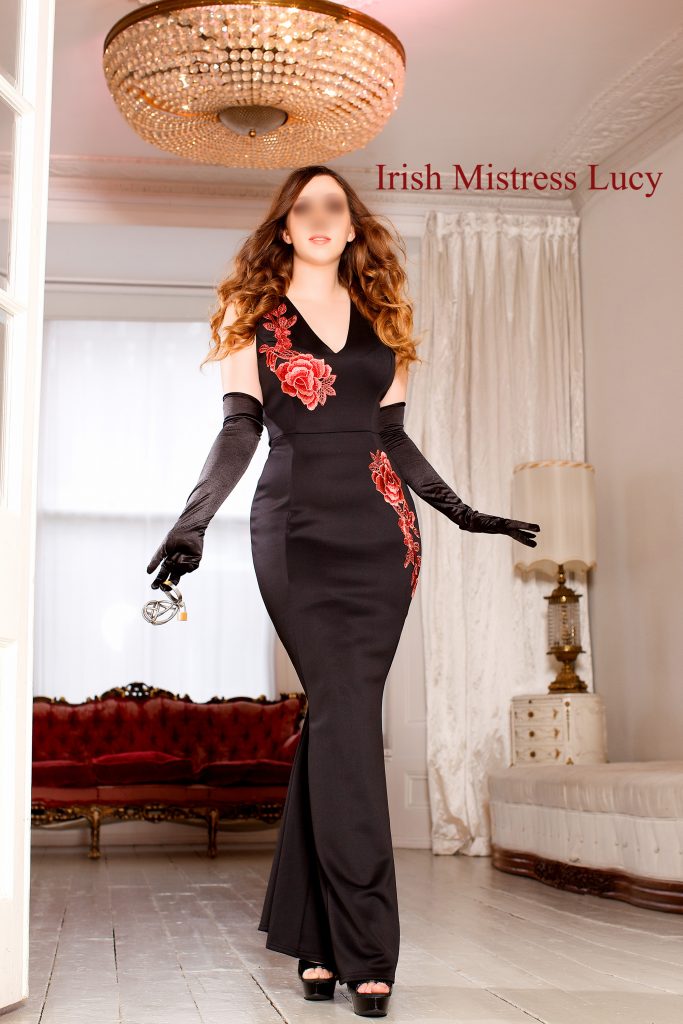 I am Ireland's Femdom Queen – Irish Mistress Lucy. I hold Professional Fetish & BDSM Sessions in my own premises in Kilkenny, Ireland. I attend Fetish events & hold sessions in the UK & Europe regularly. I aslo conduct Skype Sessions with many submissives around the world 
If you are a submissive male, slave, kink curious, seasoned player, latex worshipper, boot slave, cuckhold, sissy slave, fetish lover, complete beginner or simply adore Dominant Ladies then you have found the right place.
I will be available for Sessions in Ireland in jan & Feb 2019. Im taking a week off in Feb, dates to be confirmed.
For more information on my International Travel & Tours click here 
 Click the menu button on the top corner of this page to see the list of informative pages on my website. This extensive menu list will help direct you quickly to what section is relevant to your interests.
 If you wish to learn more about my personality & session style then remain on this page. Read on to immerse yourself in my Femdom Journey which led me to this point in my life & educate yourself on My Style of Dominance.
 I'm an Irish born Mistress based in Ireland. In 2018 I have plans to Session more in the UK & abroad as my Femdom empire moves forward and expands. I'm 29 with several years of Professional Experience. I have my own premises with Dungeon Room, Sissy Salon & Office/School Room.
I'm a full time Professional Fetish Mistress & a Lifestyle Mistress. I have undeniable passion for everything Fetish, BDSM, Kink & Femdom. I have no plans to ever retire & can easily envision myself in 20 years with far larger & even more equipped premises with my long term loyal subs living with me full time.
My Femdom Journey;
I began my entry into the Femdom & Fetish scene very slowly at 1st. I feel this was the correct path for me as I learned the core values & activities correctly before moving on to more advanced activities.
When I began holding Sessions Professionally it was initially a big step for me to play with 'strangers' from the internet! I was very cautious of who I played with & to what level. I did not want my career to end before it had really begun! I'm sure it would have been very easy to be tempted with large tributes to carry out extreme & sometimes risky activities before I was ready & confident  to do them. But I base my entire philosophy on Safe & Professional Play. I wasn't beginning this journey on a whim I knew I had a passion for this world and could see the bigger picture. Risky play is never worth any tribute.
As time passed and the more I met experienced submissives I realised how much further I could push in Sessions. I originally set my own personal limits and each year passed I removed more & more limits from my Sessions. I took my time and learned safely each new activity I was interested in.
The more new faces brought more new challenges & ideas for me to work with.
From cautious beginnings my Femdom empire started to snowball & I was inundated with Session requests. But I remained true to my own style & thankfully my loyal regular submissives could see how my future was growing and stayed with me from the beginning of my journey.
Fast forward to present day and I'm still being challenged every week with new ideas! I feel you never stop learning or experimenting in this industry. There is still so much I want to experience and I'm very much focused on pushing my Femdom empire even further in the next couple of years. I'm constantly planning for the future and I have several big plans in the pipeline. But I have to remain patient & concentrate on growing and maintaining my clientele in order to achieve my ultimate Femdom Lifestyle goals.
So please remember when you tribute me for your Session you are also helping to push my dreams and goals closer to me. Every month I reinvest quite a lot back into my equipment, premises, wardrobe, travel to events, photoshoots and saving towards my long term plan. This year in 2018 my new goal of international travel to experience Femdom outside my home country. With the continued support of my submissives & Session tributes there is no limit on what I feel I can achieve. I'm a very positive person & many wonder how I stay focused & driven all year round.  its simple, I'm blessed to be able live my own dream & experience my Passion on a daily basis with a great variety of wonderful people who come to serve & session with me.
My Style Of Dominace;
My style is quite unique to me. It changes in severity from session to session depending on the content & style. I have my own true Dominant personality not a fake, copied, OTT screaming & shouting type of dominatrix act from fetish porn. I've been naturally a leader from a very young age, the leader of the group!  I really love teaching/training someone how to do a particular activity/task and each session seeing how they learn and progress. I'm also a very organised & disciplined person. I enjoy giving instructions no matter how basic or complex. I like things done properly & in the way I describe. I'm a very creative lady and I have a fantastic imagination for all manner of role play scenarios. I relish a challenge and creating new ways to do classic BDSM activities.
I particularly enjoy seductive teasing & orgasm control. This can be done in endless ways so I'm never bored or need to repeat myself. I always want to see my submissives cocks hard. I take endless enjoyment in tormenting them with various implements & body parts.
The harder side of my personality enjoys a very intense session with a large amount of physical punishment. I'm most defiantly Sadistic and the more years behind me the more Sadistic I have become. The more pain he takes from me – for me – the bigger the power trip for me. I know now how far I can really push a submissive (within hard limits) blood being drawn is no problem.
Electrics & painful medical play in Rubber Nurse form is a huge current favourite. I really enjoy old school corporal punishment with my new dragon tail whips getting well used. Basically if I don't enjoy something I don't do it.
My Verbal Style
I generally don't scream or shout during my sessions. That sort of behaviour is far too undignified. I prefer to use my calm, controlling & strict instructional tone of voice. I'm a classy lady and that will never change.
I can definitely be quite sarcastic with stupid or unnecessary questions during a session. A sarcastic tone ideal for verbal humiliation & degradation.
I do not argue or verbally 'force' an activity during role play. Activities are always agreed & consented to before the Session.
I have no interest in sailor language either. I have no problem using certain words during a session but I'm not here for verbal descriptions of an cheap & dirty porn script. I use terms such as 'Mistress Cock'  'balls' 'ass' etc but I like to keep things upmarket & classy. In certain role plays I can be extremely descriptive & play more on the explicit verbal side. I love a good whore training role play and enjoy giving detailed instructions of cock sucking while you practice on my Mistress Cock, it all depends on the context.
My Phsyical Style
I do not entertain wrestling or throwing you around the room. I have no interest in a physical grapple or 'forcing' on to a piece of equipment. There are ladies who specialise in heavy physical dominance please seek them for those types of activities.
I can play very hard / strongly in regards to corporal punishment, super speed strap on, face slapping etc.
I prefer to use bondage and my large equipment to physically hold you securely to enforce physical dominance/ power.
My Creative Style
One of my best attributes is my intelligence & imagination. I absolutely adore role play and can improvise like a pro. I have lots of my own favourites but I welcome new creative ones. I don't like receiving a full script, but give me some ideas and let me create the scenario.
I have an amazing ability to read most people and can tell if they are enjoying their session experience, if I feel I'm not seeing the desired reaction I will often slightly change the style of session to see if I can enhance the atmosphere.
I do not add in surprise activities or change your chosen activities. Sometimes when submissives pick a style of atmosphere they don't choose correctly for themselves. Beginners think they want super bitch Lucy and half way through I can clearly see its not for them. Likewise some imagine seductive temptress is great until they don't feel challenged or I'm 'too nice'. I play within our session plan regarding physical activities as I'm a professional and respect your chosen limits. But atmosphere I feel, can and should be changeable during a session. Trust me, I often know what you want, even when you don't.
My Communication Style
During our Session Plan, is the time to really communicate with me. I'm ready to listen to you and learn more about your experience and interests. I'm not a mind reader and you need to have done some research into what activities you want to include. It's the same as asking a Chef for a fantastic meal but give no indication to what flavour, meat, cuisine you like.
I want you to enjoy our session and return for future sessions. If I wanted a quick money making session I wouldn't bother having a consultation at all. I'm a Professional Mistress and take pride in creating a customised session just for you. I enjoy every activity I include, if I don't enjoy something, I don't do it.
During your session you can use your safe word at any time if you feel the activity is beyond your comfort limit. Please don't over use the safe word. If your restraints are really pushing your limit you can say 'Mistress can you please loosen my restraints' that's perfectly fine. It doesn't break the atmosphere.
Safe words are very useful during corporal punishment, electrics, hard strap on play, very uncomfortable tight bondage etc Most never need to use the safe word, but its there if you need to stop the activity immediately.
After your Session, I welcome feedback. So you can tell me if you want to push further next time or if you particularly enjoyed an aspect you didn't expect to. It's not a minute by minute dissection but feedback is important so I will learn more about you as a submissive for our next session.
rom